How Metals Prices Performed in 2021

Published 22 hours ago
on January 24, 2022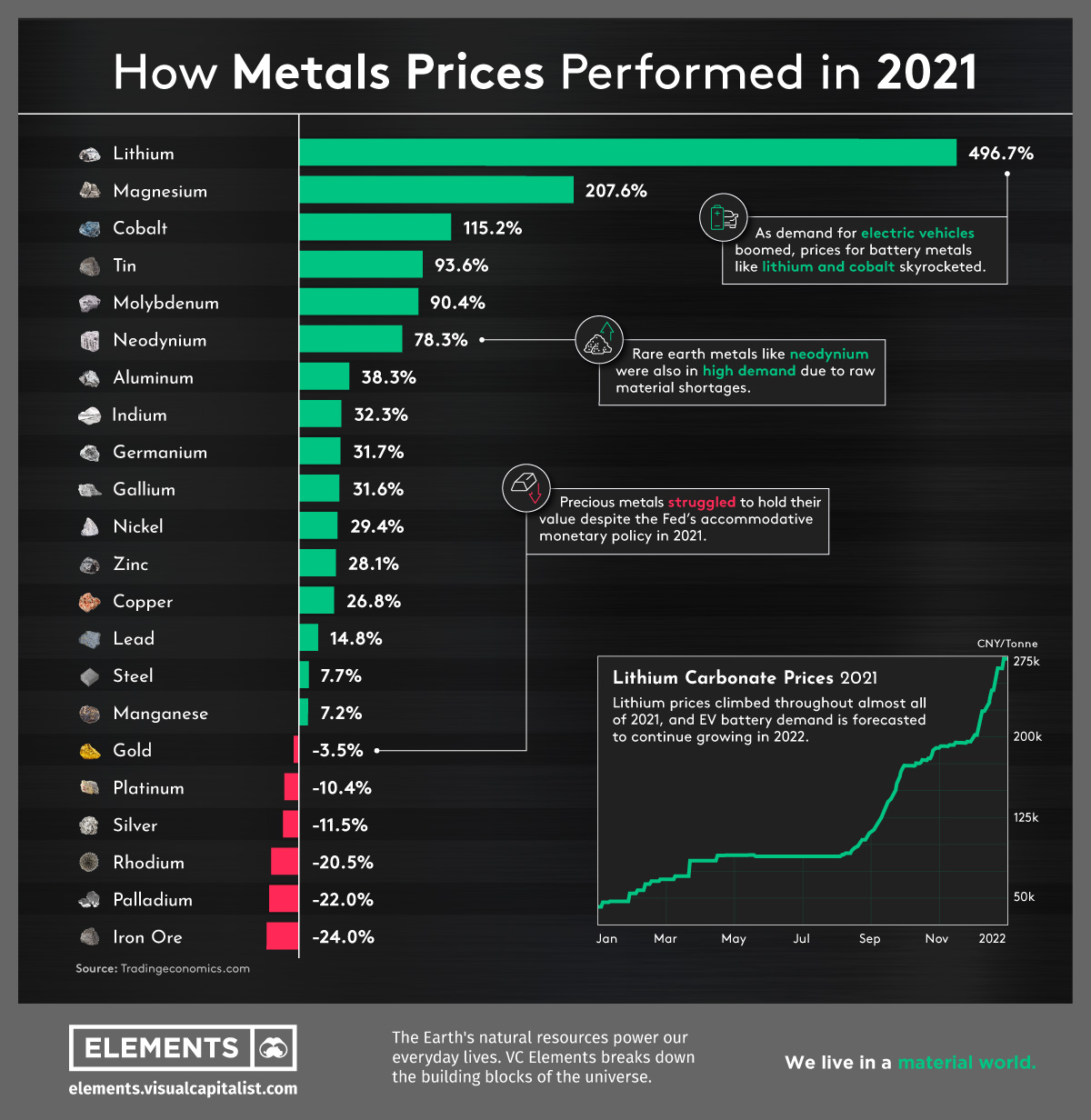 How Metals Prices Performed in 2021
Looking back on what gave investors strong returns in 2021, it was the year of industrial and energy metals.
As demand for industrial goods surged, so too did their material metals. But unlike energy prices which rose across the board last year, not all metals managed positive returns.
This infographic looks at the year-over-year return on metals prices from January 1 to December 31 of 2021, using pricing data tracked by Tradingeconomics.com.
Inflation and Raw Material Demand Spur Industrial Metals
Last year saw inflation hit 30-year highs as the world's reopening resulted in unprecedented demand for base and energy metals.
Essential materials for electric vehicle (EV) battery production like lithium and cobalt were among the top performers as EV sales continued to grow in 2021.
MetalAnnual Return in 2021
| | |
| --- | --- |
| Lithium | 496.7% |
| Magnesium | 207.6% |
| Cobalt | 115.2% |
| Tin | 93.6% |
| Molybdenum | 90.4% |
| Neodynium | 78.3% |
| Aluminum | 38.3% |
| Indium | 32.3% |
| Germanium | 31.7% |
| Gallium | 31.6% |
| Nickel | 29.4% |
| Zinc | 28.1% |
| Copper | 26.8% |
| Lead | 14.8% |
| Steel | 7.7% |
| Manganese | 7.2% |
| Gold | -3.5% |
| Platinum | -10.4% |
| Silver | -11.5% |
| Rhodium | -20.5% |
| Palladium | -22.0% |
| Iron ore | -24.0% |
Source: Tradingeconomics.com
Magnesium was another top performer last year, as skyrocketing coal prices impacted the metal, which uses coal as part of the feedstock in the smelting process. In addition, concerns over production suspensions in China for environmental reasons spurred magnesium prices further amidst potential shortage fears.
Iron ore was the only base metal with negative returns, with demand largely curbed by China's slowing growth and pledge to reduce steel output in May of last year.
Lithium and Other EV Metals Outperform
Last year saw major automakers like Ford and GM commit themselves to all new car sales being zero emission by 2040, spurring an 80% rise in electric vehicle sales in 2021.
As a result, essential battery metals like lithium, cobalt, lead, and nickel were all in high demand as automakers secured these essential materials for their battery production.
The start of 2022 has also seen more positive catalysts for nickel specifically, as Tesla secured a supply deal with Talon Metals for 75,000 tonnes of nickel concentrate over six years.
PGM Prices Falter
Palladium and platinum had strong starts in the first half of the year as well, but chip shortages resulted in a slowdown in automotive production and a drop in demand for the two metals.
Both of these key platinum group metals (PGMs) finished 2021 with double-digit drawdowns, with platinum returning -10.4% and palladium returning -22.0%.
Metals analysts are mixed on whether the two metals (primarily used in automotive catalytic converters) will see a recovery in demand, which would be led by easing chip shortages and supply chain issues.
Gold and Silver Struggle to Hold Value
As the world focused on securing the necessary raw materials for the clean energy transition, gold and silver lagged behind.
Although both precious metals wavered as stores of value, returning -3.5% and -11.5% respectively, bullion sales from the U.S. mint rose by 48.4% compared to 2020.
Despite gold's underwhelming performance while equities, cryptocurrencies, and other commodities surged, upcoming forecasted rate hikes have historically spurred reversals for the precious metal.
As 2022 has started with equity prices slumping, a potential flight to the safety of hard assets and the continuous demand for raw materials needed for the clean energy transition could set up a positive 2022 for metals.