The Largest Copper Mines in the World by Capacity

Published 3 days ago
on October 12, 2021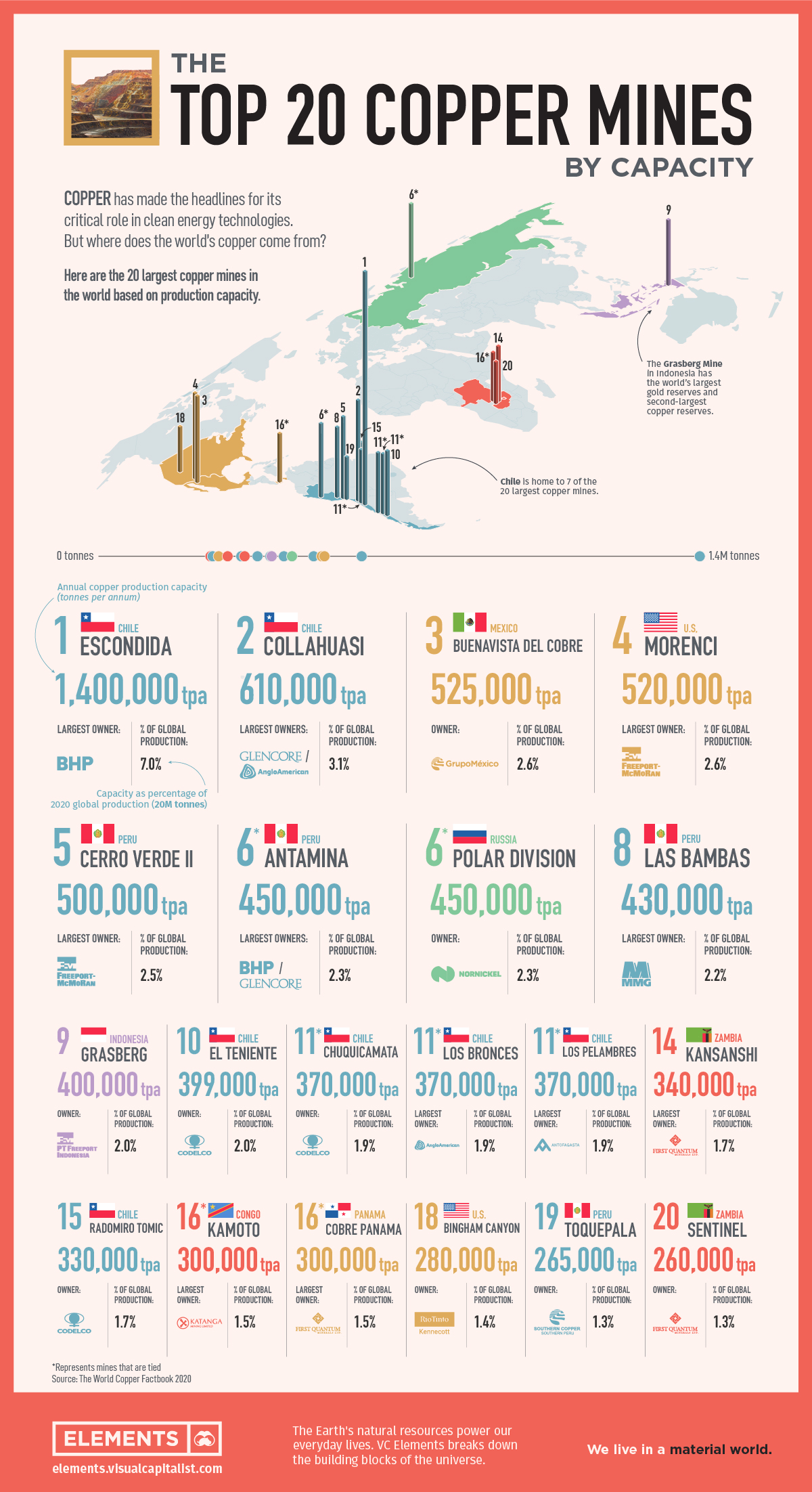 The Largest Copper Mines in the World
Copper is one of the most-used metals in the world, for good reason.
Global copper production has expanded with populations and economies, especially in China, which consumed 54% of the world's refined copper in 2020. Copper's demand comes from various industries, ranging from construction to renewable energy.
But before copper reaches its array of end-uses, miners have to extract and refine from deposits within the ground. So where are the world's largest copper mines, and just how large are they?
Types of Copper Deposits
The location of mines ultimately depends on the occurrence and discovery of copper deposits. There are two main types of copper deposits:
Porphyry deposits:
These are copper ore bodies formed from hydrothermal fluids from magma chambers that lie deep below the deposit.
Sediment-hosted deposits:
These deposits are formed when copper-bearing fluids mix with permeable sedimentary and volcanic rocks.
Copper is primarily sourced from porphyry deposits, which are concentrated in the Americas. Therefore, many of the world's largest copper mines operate in this region.
Top 20 Copper Mines by Capacity
North, South, and Central America collectively host 15 of the 20 largest copper mines. These three regions combine the capacity for nearly 36% of global copper production in 2020.
RankMineCountryAnnual ProductionCapacity (tonnes)Capacity as a %Global Production†
| | | | | |
| --- | --- | --- | --- | --- |
| 1 | Escondida | Chile | 1,400,000 | 7.0% |
| 2 | Collahuasi | Chile | 610,000 | 3.1% |
| 3 | Buenavista del Cobre | Mexico | 525,000 | 2.6% |
| 4 | Morenci | U.S. | 520,000 | 2.6% |
| 5 | Cerro Verde II | Peru | 500,000 | 2.5% |
| 6* | Antamina | Peru | 450,000 | 2.3% |
| 6* | Polar Division | Russia | 450,000 | 2.3% |
| 8 | Las Bambas | Peru | 430,000 | 2.2% |
| 9 | Grasberg | Indonesia | 400,000 | 2.0% |
| 10 | El Teniente | Chile | 399,000 | 2.0% |
Showing 1 to 10 of 20 entries
*Mines with equal capacities have the same rankings. †2020
The Escondida Mine in Chile is by far the world's largest copper mine. Its annual capacity of 1.4 million tonnes means that it can produce more copper than the second and third-largest mines combined.
Porphyry copper deposits are often characterized by lower grade ores and are mined in open pits. As a result, some of the top copper mines are also among the world's largest open pits. The Bingham Canyon Mine (seen below) in Utah, United States, is the deepest open pit with a depth of 1.2 km. It's also the largest man-made excavation on Earth, spanning 4 km wide.
Chuquicamata and Escondida are the second and third-deepest open pits, respectively.
Indonesia's Grasberg Mine is another notable name on this list. It produces both gold and copper on a massive scale and has the world's largest known reserve of gold and the second-largest reserve of copper.
Overall, the top 20 mines have the capacity to produce nearly nine million tonnes of copper annually—representing 44% of global production in 2020. However, with demand for refined copper expected to rise 31% between 2020 and 2030, these existing sources of supply might not be enough.
Falling Grades, Rising Demand: New Mines on the Block?
According to the International Energy Agency, average copper ore grades in Chile have declined by 30% in the last 15 years. Since Chile's mines produce more than one-fourth of the world's copper, these falling ore grades could be a cause for concern—especially with a deficit looming over the market for refined copper.
New copper mining projects are becoming more valuable and it wouldn't be surprising to see fresh names on the list of the largest copper mines. For example, the Kamoa-Kakula Mine, which started production in May 2021, is expected to churn out 800,000 tonnes of copper annually after expansion. That would make it the second-largest copper mine by capacity.

The Largest Copper Mines in the World by Capacity (visualcapitalist.com)